Unsteady State Heat Transfer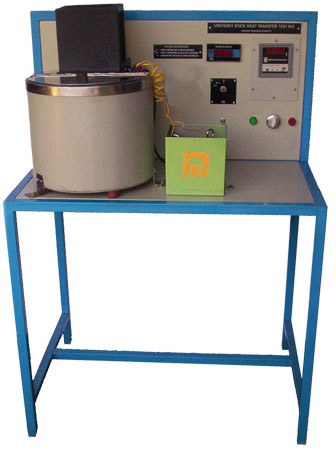 Unsteady State Heat Transfer
Product Description
Control Panel Stand Alone Metallic powder coated panel
Specimen
Copper 30mm dia, 30mm long,
Duct / Enclosure
MS powder coated duct of 8"x8" in size 8" dia MS shell with glass wool insulation
Heater: Band Heater-500W
Cooling Fan: 8" dia exhaust fan
Voltmeter: Digital voltmeter of range 0-300V AC
Ammeter: Digital ammeter of range 0-20A AC
Temperature Indicator: Digital Temperature Indicator ,0-400C with TSS
Thermocouples: PTFE coated Cr -Al (K-type)-8 no.
Stopwatch: Digital Stop Watch.
Regulator: Electronic Dimmer 1kW. (2Amps Variac At extra cost)
Experimental Capability: Nusslet No. And Biot No.