Plant Growth Chamber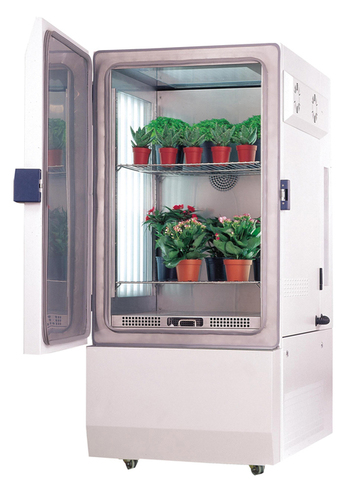 Plant Growth Chamber
Product Description
Plant Growth Chamber

Plant Growth Chamber Is A Useful To Conduct Experiments On Plant Growth In Certain Controlled Environmental Conditions. Double Walled Construction, Inner Made Of Anodized Aluminum Or Stainless Steel Sheet And Outer Made Of Mild Steel Sheet Duly Finished In Powder Coated.In Addition To A Double Walled Outer Door. A Full-View Clear Acrylic Door Has Been Provided For Inspection Of Material Without Disturbing Chamber Conditions.

Three Perforated Adjustable Shelves Are Provided. Temperature Range From 5 C To 50 C 2 C Is Controlled By A Digital Temperature Controller And Indicator. Heating Is Achieved By Insulated Elements And Cooling By A Sealed Compressor Unit. Inner Cyclic Illumination Is Controlled By A 0-24 Hrs. Timer And Light Intensity By A Controller. Humidity Created In A Stainless Steel Chamber Heated By An Immersion Heater Below The Chamber, From Ambient To 95% 3% Rh And Is Controlled By A Humidistat.