Kjeldhal Units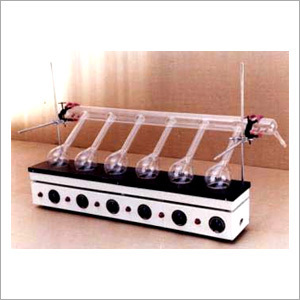 Kjeldhal Units
Product Description
Kjeldhal Units
Riding On Two Decades Of Rich Industrial Experiences, We Have Been Involved In Offering An Exclusive Range Of Kjeldhal Units. These Units Are Used For Nitrogen Analysis In Various Industries Including Beverage, Food, Chemical And Paint. Precisely Designed At Our State Of The Art Machining Facility, Our Kjeldhal Units Are Made Using Quality Brass Procured From Authentic Vendors Of The Market. We Offer These Units To Our Esteemed Clients At A Reasonable Price.
Features:
Easy To Operate, These Units Offer Accurate & Tolerance Free Results
Compact Design, Advance Service Life And Zero Maintenance
Stringent Quality Checking Done Before Final Shipment

Further Details :
Kjeldhal Units (Without Glass Parts).

A) Kjeldhal Digestion Units:
Useful For Estimation Of Nitrogen Contents In Substance By Digestion In 300 & 500 Ml Flasks. Provided With Fume Duct (Optional) Made Of Lead And Pair Of Hangers. Workable On 220 V Ac 50 Hz Single Phase. Individual On-Off Switches And One Energy Controller For All Units Is Provided.