HUMIDITY CABINET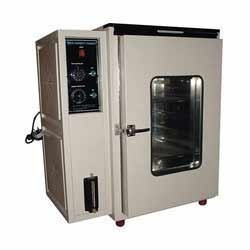 HUMIDITY CABINET
Product Description
Humidity Cabinet

Our Organization Is Looked Upon As One Of The Most Trusted Manufactures Of Humidity Cabinet. Built In With Microprocessor Pid Digital Temp Indicator-Cum-Controller, These Cabinets Are Used In Medical, Pharmaceutical And Chemical Industries For Vapor Transmission And Stability Testing. It Has Two Wall Deign, Outside Wall Made From Mild Steel Painted In Epoxy Powder Coating And The Inner Wall Made From Stainless Steel. We Can Also Customize Humidity Cabinet As Per The Exact Needs Of The Clients.
Features:

Resistant To Tough Working Conditions And Ensure Zero Heat Loss
Owing To Durability, Optimum Performance And Less Maintenance, High In Demand In Varied Industries
Offered In Quality Packaging To Ensure Safe And Damage Free Delivery At Clients End

Further Details

Temperature Range Ambient Temperature To 60Degc. Temperature +/-1Degc With Built-In Horizontal L Shape Thermometer. The Humidity Is Controlled By Humidity start From Atmospheric Humidity Num/Stainless Steel And Outside Mild Steel Painted In Epoxy Powder Coating. The Door Has Glass Window. To Work On 220/230 Volts A.C. Inside Water Tank Is Made Of Stainless Steel.

Wxdxh Capacity (Approx.)

A) 455 X 455 X 455 Mm 95 Ltrs.
B) 455 X 455 X 710 Mm 147 Ltrs.
C) 605 X 605 X 605 Mm 225 Ltrs.
D) 605 X 605 X 910 Mm 335 Ltrs.

Optional:

I) Hygrometer (Humidity Indicator).
Ii) Digital Temperature Controller-Cum-Indicator.
Iii) Imported Thermostat Ego/Jumo German With The Accuracy Of +/-0.5Degc.
Iv) Microprocessor Pid Digital Temp. Indicator-Cum-Controller.