Horizontal Laminar Air Flow Cabinets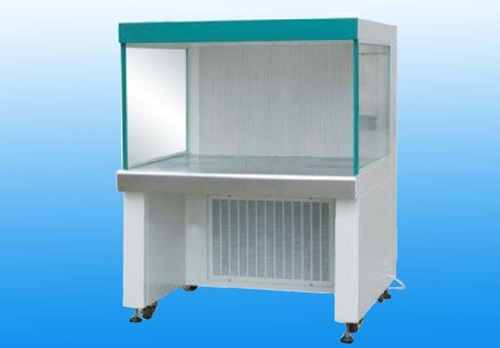 Horizontal Laminar Air Flow Cabinets
Product Description
Horizontal Laminar Air Flow Cabinets

Laminar Air Flow Cabinets works on laminar flow principle involves double filtration of air through coarse Pre Filters (upto 5 microns) and Hepa filters (down to 0.3 microns) for filtration of Biological & Particulate contaminants. A constant uni-directional air flows either Horizontally or Vertically, is drawn from atmosphere and passed through pre and Hepa filters on to the work surface. Fabricated out of reinforced pest and weather resistant Duro-board which is clad in from outside in laminated sheet and inner exposed areas are finished in Epoxy paint. Table top stainless steel sheet. Side panels are fixed and made of clear plexiglass. Front door is folding & made of clear plexiglass.
Prefilters:-
DOP tested as per Standard BS: 2831 with efficiency 90% down to 5microns. Made of Washable synthetic material.
Hepa Filters:-
Made of Microglass fibre with corrugated aluminum foil separators. DOP tested as per US Standard 209B. Efficiency 99.97% down to0.3 microns.
Blower Units:-
Assembly of AU or equivalent motor workable on 220V AC 50Hz single phase, dynamically balanced blowers making the unit least vibrant with minimum noise level.
Contact Us
62, Azad Nagar, RamPur Chowk, P.O Industrial Area Ambala Cantt Haryana India +918045478451
Phone :+918045478451