B.O.D. INCUBATOR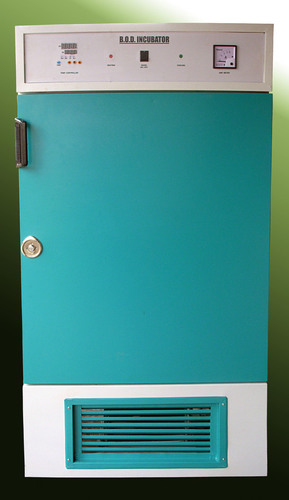 B.O.D. INCUBATOR
Product Description
B.O.D. (Bio-chemical Oxygen Demand) Incubator (Low Temp.) :
Double walled construction. Inner chamber made of anodized aluminium sheet/stainless steel with self supports for wide range of shelf spacing. Supplied with two/three removable perforated shelves. Clear inner door of acrylic sheet allows inspection of material without disturbing chamber temperature. Outer double walled door is provided with magnetic gasket, lock & key and door operated lamp illumination. The cabinet is mounted on castors. Temperature is controlled by a micro processor digital temperature controller cum indicator from 5 C to 50 C 1 C. Inner air circulating system provided for uniform temperature in the whole chamber. A silent sealed compressor with protective devices along with fan cooled condensing coil are placed below the chamber for safe and efficient working.
Control panel provided at top of cabinet has three indicator lamps for mains, heating & cooling, voltmeter, temp. controller, cord-plug etc. and equipment is workable on 220 V AC 50 Hz single phase.
Size of chamber in mms (WxHxD) Capacity (cu ft.)
500 x 800 x 415 6.10
565 x 865 x 550 10.00
650 x 900 x 550 12.00
700 x 900 x 650 15.00